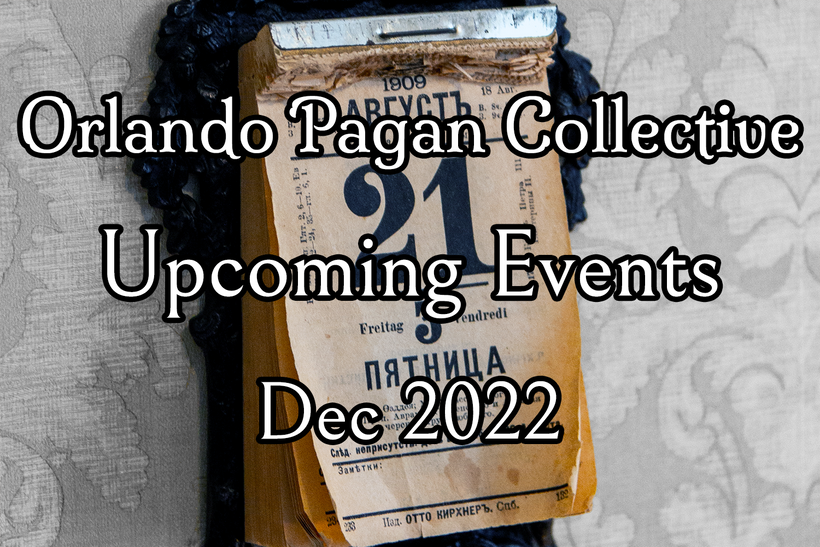 Pagan Movie Night – Spirited
Sat, Dec 10, 2022, 6:00 PM EST
Private Residence – Location provided once registered
Come join your fellow Pagans for our Pagan Movie Night. Never heard of Spirited? This movie is a new retelling of Charles Dickens' A Christmas Carol. Fair warning, it's a musical! This is a BYOSB (Bring Your Own Snacks and Beverage) and, because seating could be limited depending on participation, a pillow to sit on If you would like to bring a dish to share, then please feel free!
Bubble Bubble Talk and Trouble, A Pagan Chat Night
Tue, Dec 20, 2022, 7:00 PM EST
Denny's 5725 T G Lee Boulevard Orlando, FL 32822 or Virtual
We are in a PRIVATE ROOM at Denny's. This ensures privacy, quieter space for conversation, and dedicated service staff. Reservations help us set up our room and provide an optimal setting for open communication.
Enchantments. What are enchantments? Do you use charms, talismans, and amulets? How do you use them? Why do you use them? Do you have any to share with the group? Let's talk about how we empower objects for use in our spiritual lives.
At our pagan chat nights, we share a meal and conversation about our pagan practice. This is a wonderful way to introduce yourself to the pagan community at large, as well as to learn and share a little of your own experience and path. Our monthly topic is determined each month based on a poll by attendees and updated on each event at the beginning of the month.
Yule Sabbat Ritual and All Night Vigil, hosted by the Aspen Temple
Wed, Dec 21, 2022, 7:00 PM – Thu, Dec 22, 2022, 7:15 AM EST
Virtual
This is a spectacular time to be Pagan! As stewards of the Earth, we know that the Winter Solstice is coming. Although it is the shortest day of the year, it marks the time when the days will be getting longer. We are on our way back from the darkness into the light. In many pantheons' stories, this is when the Sun God was born, which is why the Christians moved the birth of their Son of God, aka Sun God, to this celebratory time. Many locals were already celebrating the Solstice (or Saturnalia or Yule) and adopting this time was the method of the conquering culture to adopt (re: steal) the holiday season. Nevertheless, Pagans can avail themselves of many of the festivities of the season, such as decorating an Evergreen tree, lighting candles, creating a Yule log (non-edible or edible), and merry-making with friends and family. All of these activities have Pagan connections2 and need little explanation to our Abrahamic religious friends who are doing similar activities.
Come join us for this wonderful holiday! We will hold the Yule sabbat in a traditional Wiccan circle led by the Aspen Temple and then hang out for the rest of the evening for our annual vigil to watch the sunrise the next day! Come just for the sabbat or pop in when you can until we toast to the sun at 7:15 am Thursday morning.