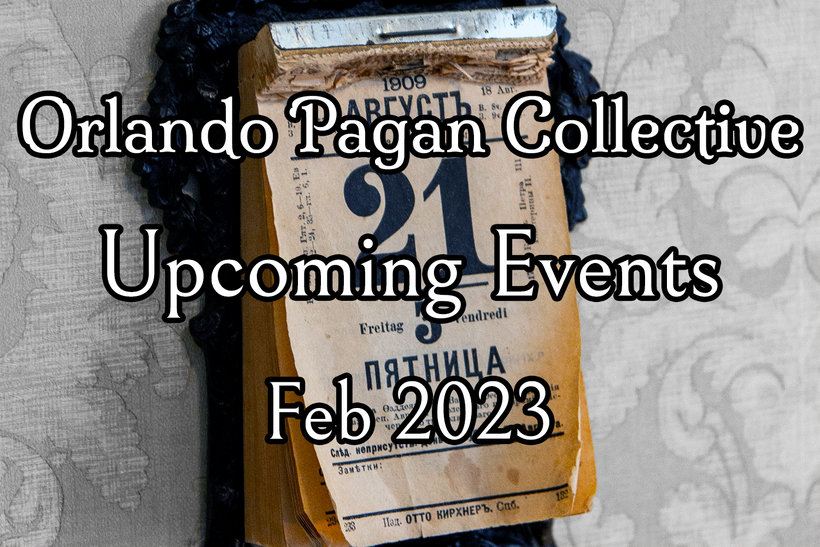 Imbolg Sabbat Ritual, hosted by the Aspen Temple
Fri, February 3, 2023, 7:00 PM – 10:00 PM EST
Virtual
RSVP Link
Imbolc or Imbolg is a Gaelic holiday celebrated by Wiccans and others who follow the Eight Sabbats of the Wheel of the Year. Celebrated on February 2nd, Imbolg marks the middle between Winter and Spring. Although the holiday is not celebrated by all, another USA holiday has some similarities with winter and the upcoming spring – Groundhog's Day. If you look at the history of Groundhog's Day it has similarities to Candlemas, which is another related holiday to Imbolg.
This is a time to get ready for the upcoming spring. The days continue to get longer. The weather starts becoming warmer, even if it takes longer than expected due to Punxsutawney Phil's fear of shadows. It is a great time to spring clean, to declutter, and give attention to your hearth. This holiday "marks the sun's growing strength" (CR). Days become longer. We celebrate new beginnings and cleansing to create space for the new.
We often honor the goddess Brigit (Bride) this holiday. Brigit is a triple goddess and we celebrate her femininity in all her aspects. She is a fire goddess in charge of inspiration and creativity. She is the goddess of the holy well and the sacred flame. Brigit is a healer.
Come join us for this wonderful holiday! We will hold the Imbolg sabbat in a traditional Wiccan circle led by the Aspen Temple and then hang out a bit afterwards to chit chat about the ritual and season. Come as you are or dress in the colors of the season in your very best. We welcome all, exactly where you are today.
Pagan Movie Night – Groundhog Day
Sat, Feb 11, 2023, 6:00 PM EST
Private Residence – Location provided once registered
RSVP Link
Come join your fellow Pagans for our Pagan Movie Night. This is a BYOSB (Bring Your Own Snacks and Beverage) and, because seating could be limited depending on participation, a pillow to sit on If you would like to bring a dish to share, then please feel free!
Bubble Bubble Talk and Trouble, A Pagan Chat Night
Tue, Feb 21, 2023, 7:00 PM EST
Denny's 5725 T G Lee Boulevard Orlando, FL 32822 or Virtual
RSVP Link
We are in a PRIVATE ROOM at Denny's. This ensures privacy, quieter space for conversation, and dedicated service staff. Reservations help us set up our room and provide an optimal setting for open communication.
TOPIC: Casting Spells for Love and Money
Spellcraft. Do you cast spells? Not all pagans use spells in their practice, but there are many that do. Spells are not enhanced prayers, as some pagan books may profess. Spells are magic-making rituals or at least energetic efforts to enact change. There are many spells and many ways to conduct spells. Love, luck, money, and more can be asked for and received. For this month, we will be discussing how you may incorporate spellwork into your practice.
At our pagan chat nights, we share a meal and conversation about our pagan practice. This is a wonderful way to introduce yourself to the pagan community at large, as well as to learn and share a little of your own experience and path. Our monthly topic is determined each month based on a poll by attendees and updated on each event at the beginning of the month.